Finca for sale in Mallorca, the term finca refers to a piece of rural or agricultural land with a house or agricultural buildings.  In our property listings you will find both, all of which have the size of any buildings the year of construction and the size of the plot of land. The size of both the building its age and the size of the land it is on are very important. Licences to construct or reform rural buildings are regulated by the age and size of the building and the size of the land it is situated on.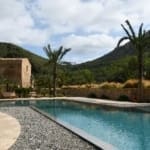 The minimum area for a plot of land  is 14.200m2 for a licence to build or reform with some exceptions if the building on the plot is older than 1956, and still has a roof. If the owner can show a licence to construct which received its final certificate which predates the present rules.
If you want to buy a rural house in Mallorca, you can also see our listings of country houses. If you want to build, we have listings for building plots and new builds.
If you would like more information about Fincas for sale in Mallorca or have questions about the planning regulations. Contact Us